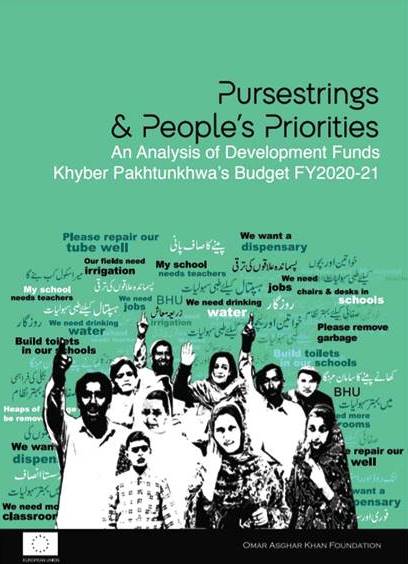 Pursestrings & Peoples Priorities | The Foundation's analysis of development funds – KP Budget FY2020-21
The Foundation's analysis showed that KP's FY2020-21's total outlay was Rs.923 billion, slightly more than the preceding year's Rs.900 billion. Rs.318 billion was allocated for development — Rs.149 billion for settled districts and Rs.83 billion for merged districts. Analysing the development budget, the Foundation confirmed that in response to Covid-19, the KP government allocated Rs.24.38 billion for Health, representing a whopping increase of 79.20% from the preceding year's Rs.13.61 billion. According to government, it is the "biggest investment in healthcare in the history of the province." The pattern of distributing allocable development funds to districts was mapped and trends over the period FY2010-11 to FY2020-21 analysed. For fair and more transparent distribution of funds, the Foundation again presented the Provincial Finance Commission (PFC) Award it had proposed last year. It suggested creative criteria to help meet complex, contemporary challenges like gender inequity and climate change. The proposed PFC Award was applied to Swat, Mardan, Swabi, Nowshera, the seven districts of the southern region and six districts of Hazara. Variations were compared between allocated amounts and the share due if the proposed PFC is used. The Foundation's analysis also combined public testimonies to better understand the impact of budgets on people's lives. These were drawn from social accountability actions of more than 200 civil society organizations (CSOs) trained in social accountability by the Foundation in some of the poorest communities of Khyber Pakhtunkhwa. On the basis of its analysis, the Foundation proposed nine key recommendations for improving public finance management in the province. The Foundation regularly analyses KP's budgets since 2010 and publishes findings in byte-sized documents. The Foundation's budget analysis can be accessed on www.oakdf.org.pk
Recommendations for Improving Public Finance Management in KP
Improve fiscal discipline & better budget execution.
Use creative criteria to devise a Provincial Finance Commission (PFC) Award for fair and transparent allocation of development funds for each district.
Extend the scope of the PFC Award beyond local government funds to the entire development budget.
Ensure allocation & disbursement of not-less-than 30% development funds to empower local governments.
Provide sex-disaggregated budget data.
Support gender-responsive budgeting, mainstream women's interests in every sector.
Support engagement of citizens, especially the poor, in improving the use of public funds for delivering quality public services.
Establish credible & effective mechanisms to capture a range of public perspectives on public finance priorities.
Promote transparency by reducing block funds until they are effectively minimized or eliminated.